Get ready to hoist the sails and join the celebration as Sunsail embarks on an exciting voyage alongside the legendary French yacht builder, Dufour. With over half a century of seafaring craftsmanship, Dufour has earned its stripes as a top-tier yacht builder. This partnership is more than just a handshake; it's a nautical love affair that makes Dufour Yachts the exclusive supplier of sailing monohulls for Sunsail.
Our Sunsail technical department has been working their magic with Dufour to make sure their new creations not only meet but exceed our sailors' wildest dreams. Picture this: in the spring of 2024, we'll be welcoming our first fleet of 25 Dufour monohulls to our Mediterranean playgrounds. This flotilla will showcase four dazzling models ranging from 37 to 53 feet: the Dufour 37 (aka Sunsail 37.3), the all-new Dufour 41 (meet the Sunsail 41.3), the sleek Dufour 44 ( new Sunsail 44.3 and Sunsail 44.4), and the majestic Dufour 530 (also known as Sunsail 53.5).
But this is not even all! In autumn 2024, just in time for the 2024/2025 winter adventures in the Caribbean and the 2025 Mediterranean season, we'll be receiving another batch of these yachts.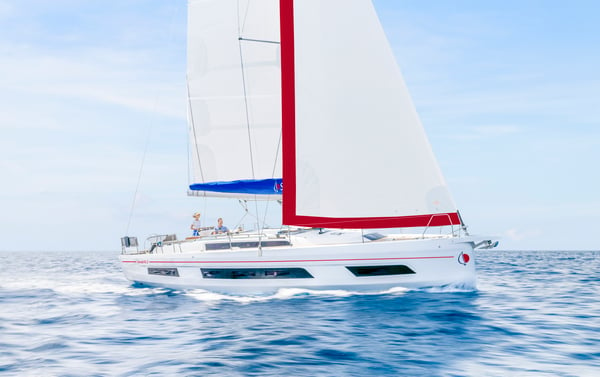 Dufour yachts are amongst the fastest of the sea - speedy, stylish and oh-so-stable. They're designed for sailors who crave modern elegance, decked out with alluring finishes. Sailing them is a breeze, and they've been known to leave the competition eating their wake.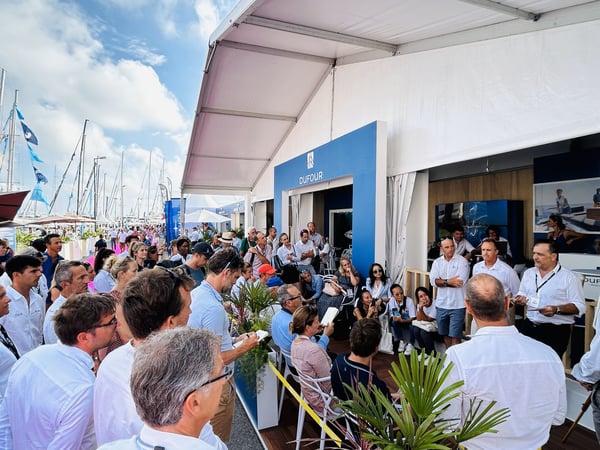 Press conference on 12 September 2023 - Cannes Yachting Festival
Franck Bauguil, Vice President of Yacht Sales and Product Development for Sunsail, says: "Sunsail is delighted to announce a new partnership with Dufour Yachts for all new monohulls arriving in our charter fleets. We look forward to a long-term partnership and close collaboration on product development. There is a high level of convergence between the two companies in terms of product design, comfort levels, and sailing sensations, laying the foundations for an unrivaled charter experience".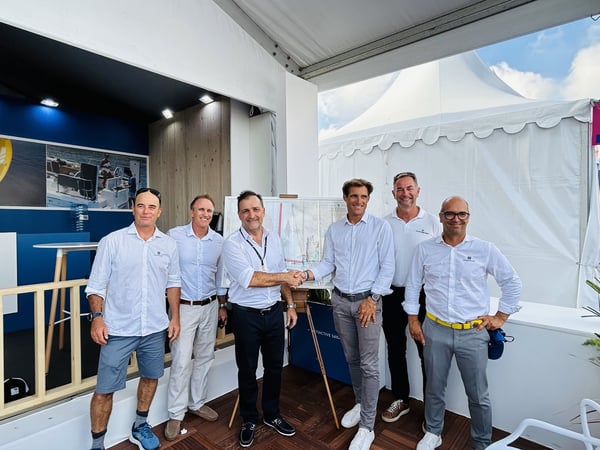 Press conference on 12 September 2023 - Cannes Yachting Festival
Romain Motteau, Deputy Managing Director of Dufour Yachts, expressed his enthusiasm by saying: "We are delighted with this new partnership, built on a shared long-term vision. At Dufour Yachts, we strive to design yachts that meet the evolving requirements of owners and charterers looking for a dream holiday. Our three fundamental pillars of comfort, sensations and respect for the oceans are perfectly aligned with Sunsail's philosophy".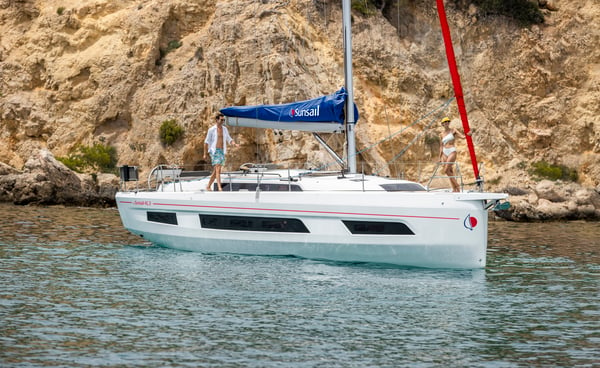 The new Dufour yachts will be available for charter as well as through Sunsail's management charter programmes. This is the ideal solution for those who dream of owning a boat but have limited leisure time and/or budget. The programme guarantees a regular monthly income or a reduced purchase price and offers a wide range of sailing opportunities throughout the year. It gives access to a wide range of destinations around the world without the usual expenses associated with ownership (insurance, maintenance, berths).
Franck Bauguil concludes by expressing his gratitude to the people who helped build this partnership: "I would like to thank the Dufour management team, Romain Motteau and Steven Guedeu, and also Laurent Fabre in the United States, for making the process easy and enjoyable. Special thanks to the Dufour team, Nicolas Berenger and Romain Lucas for their expertise and listening skills, and of course to my team, Antony Wighting, Technical Director at Travelopia and John Lefevre, our Purchasing and Logistics Director, for their unwavering commitment throughout this process
With Sunsail's 50 years of seafaring expertise and Dufour Yachts gearing up for its 60th anniversary in 2024, consider this partnership the launch of a thrilling new era in the world of yachting. So, ready your crew and plot your course because the seas are calling, and adventure awaits…