I do, that's who! My name is Nancy and I work in the Yacht Ownership team in the UK office for Sunsail and The Moorings. How I got to this point in life as a yacht master, water sports enthusiast and international globe trotter is all down to Sunsail flotilla holidays and this is why…
I was born in the East End of London and that's where I spent my childhood; a long way from the water and in a totally different lifestyle to the one I have now, with not a huge amount going on and definitely no signs of water sports or sailing!
My father, also an East Londoner laid his hands on a book all about sailing when he was a child and it impacted him so greatly that he decided one day he just had to become a sailor. Many years later at the age of 35 he met my mother and seeing what a capable and up for a challenge type of girl she was, he managed to talk her into buying an albacore dinghy which they towed home and carried through the open bay windows and into the living room of our Victorian home and that is where she resided. At the weekends they got bashed and bruised racing her on the Thames Estuary with new found friends that became friends for life.
With me being the youngest of three, poor Dad had to wait till I was 5 before we went on our first Sunsail holiday where we got our and first experience of yachting. We spent the first week land based at the beach club playing around in toppers and racking up Mum and Dads bar bill with an obscene amount of ice cream purchases. Then the next week we headed down to the marina and pick up a big shiny near-new yacht which blew my mind, being the biggest thing I thought I'd ever seen. We headed off on flotilla with the lead boat in tow (whom I thought were the coolest bunch of individuals on the planet).
These holidays were made for my family and we loved them; no other kids at school were doing anything this cool! So we made this an annual holiday from then onwards, but when it was over we'd go back to normal dull life in Ilford where we had to try and patiently await another 50 weeks before we could start another adventure and feel the wind in our sails once more!
When I look back on my childhood I can honestly say that the majority of my memories are from when I was on those flotilla holidays. Whether it was diving off the pulpit whilst anchored in Abelike Bay or sipping my brothers punch at the beach BBQ whilst Mum and Dad were drunkenly trying to figure out which dinghy was ours, or the excitement of trying to outrun some ominous storm which was fast approaching! These holidays got sailing into my blood at a young age and they totally changed my perception of how my life could be and what future I could create for myself!
The Ionian was our favourite holiday spot and we went back time and time again to enjoy the calm winds and flat waters which made an ideal playground for us 3 kids. A favourite "trick" of my parents was to get us fishing from the dinghy as we gently sailed along, but on a ridiculously long painter to give them some peace and quiet for at least a short spell. We loved the Ionian, so much so that once my parents retired they decided to buy our Moody Eclipse 33 and named her Spangle. I spent a huge amount of time helping them get her from the Hamble to Lefkas without my siblings by my side. It was during this period that I began to show clear signs that I had a very good understanding of sailing and also a great ability and confidence to handle a yacht. No longer was I the one with the roving fender but instead I was given responsibility with the mooring lines and even to moor her up. I was now feeling like a real sailor and my confidence was soaring. One miserable day on the Solent we were sailing Spangle down to Yarmouth when we got hit by an incredibly ugly storm and waves were lashing the deck and our faces. I was only aged 14 or so but I was very insistent that my parents should stay down below safe and dry whilst I stayed on the helm and sailed her into port.
At the age of 16 my Father wisely pushed me to participate in a Sunsail teenage course from Port Solent Portsmouth where I successfully completed my Day Skipper course. I remember feeling apprehensive and nervous, so much so that my parents had to escort me to the boat and deliver me to my skipper Jeremy Troughton. But that weeks sailing was so much fun, with a brilliant team and skipper and it confirmed for me that I did know what I was doing and that I shouldn't doubt myself again!
A few years later at college I had to drop out of my animal care course due to learning I'm not particularly good with the sight of blood after having embarrassingly fainting at the vets whilst on work experience. I found myself a little lost as to what to do next! However my parents had no doubt where I belonged and they helped me secure an interview with Sunsail where I landed my first job at the age of 17 in the UK as a yacht technician (glorified cleaner!). I soon worked my way up to being a boson doing all the repairs and then straight on to being team leader managing 15 staff and being responsible for a fleet of 20 yachts. At this point I qualified as a yacht master and began teaching on yachts which was something I did for many years in the UK and at the Sunsail Beach Clubs worldwide in Greece, Turkey and Antigua. Teaching is a big love of mine I thoroughly enjoyed turning others into "yachties".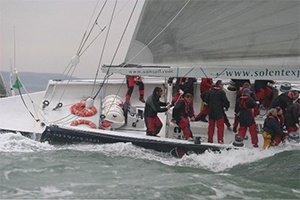 After exhausting sailing courses I decided I needed to up the challenge and leave my comfort zone and that's exactly where I found myself when I was lucky enough to be given a position aboard Sunsails Americas Cup yacht France 3 as the Bowman. We were based out of Gunwharf Quays in Portsmouth and we match raced against France 2 for lots of corporate events. We also took individuals out to get everyone's blood pumping. Being the Bowman on that Cup Boat is by far one of my greatest achievements to date. I absolutely loved the high speed and adrenaline, although it did leave me with many sleepless nights as I always had the fear of bagging the spinnaker with a twist or dousing it straight into the sea, becoming responsible for losing the race for everyone! However that never happened and the second season I was promoted to first mate/trainee skipper and I was off the foredeck and into the cockpit being extremely vocal, coordinating every manoeuvre and back in a more face to face role with others which is where I belong.
In the winters I dabbled in teaching some windsurfing and kitesurfing in Venezuela and Egypt which is another huge love of mine and something I was lucky enough to reach at sponsorship level.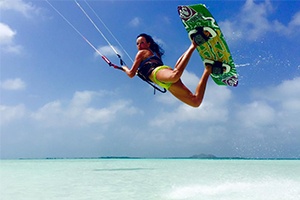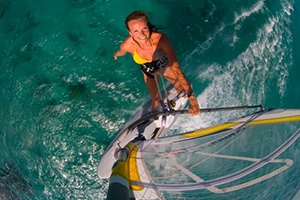 I also managed to dodge the grim UK winters in the Sunsail Head Office making charter reservations for our lovely charterers and I enjoyed countless numbers of boat shows back in the days of Earls Court. 3 years ago I was lucky enough to join the Yacht Ownership team, which 100% fits with my current lifestyle and where I want to be at my age. I've remained a keen kitesurfer which dominates my weekends along with a touch of paddle boarding for mackerel to go on the BBQ when the winds are light. All of which is done with my lovely husband by my side. Having had such a long history with the company both within employment but also as a charterer; I'm passionate and proud of our brand and feel I am perfectly equipped to be a part of the Yacht Ownership Team. Encouraging our clients to jump aboard and join the programme is easy for me as I am keen to see more families experience our fantastic charter holidays just as I have done over the years.
I think you can see I've already had a very interesting career with Sunsail and I know it's cheesy to say but I really am Sunsail through and through... if you cut me open little Sunsail logos would bleed out of me! But no, I'm extremely thankful to my parents who took us on those Sunsail holidays at a young age and for encouraging me to follow the sailing path. There is no doubt that those holidays shaped me into the person I am today and led me down a very different road and for which I'm extremely grateful.
Become part of the Sunsail family!